El Libertad
| | |
| --- | --- |
| Category | Rum |
| Origin | Northern Italy |
| Alcohol | 40% – 48.1% |
| Perfect Serve | With ice |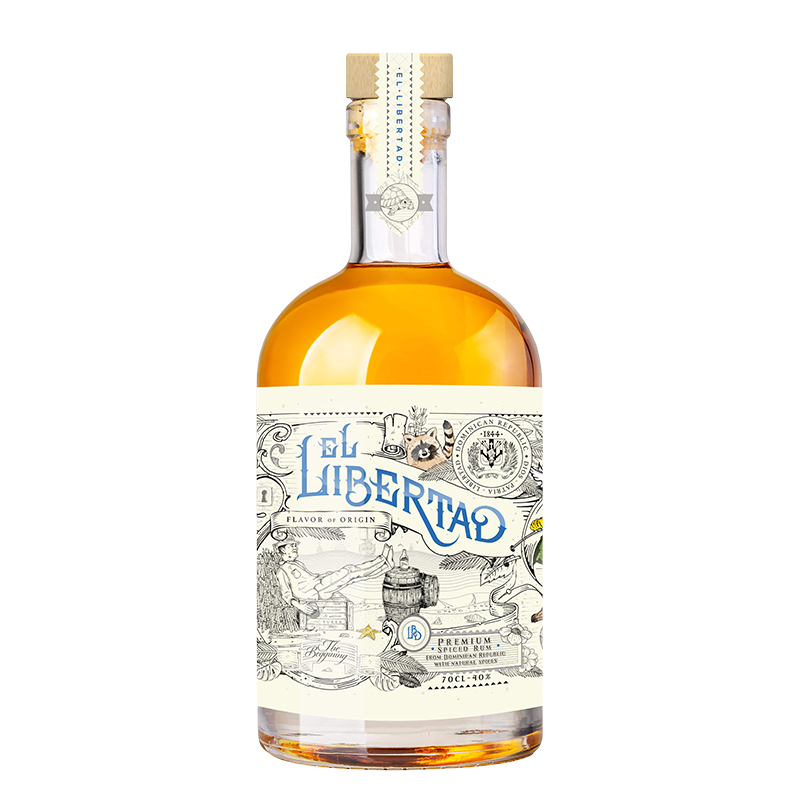 The choice of adventure
Discover a full-bodied and balanced rum, exceptional in its category. Thanks to the low sugar content and the selection of 100% natural herbs. The pleasant power of the molasses and
the selection of natural herbs make this rum a winner.
An intergenerational and artistic brand, the labels are hand drawn by an established one and local artist, which earned him the honor of participating in World Brand Design Awards 2019.
He won this award and his publication appeared in the book "Favorite-Design" as one of the most beautiful packaging for the year 2018.
More about El Libertad
EL Libertad "Chapter 1 – Taste of Origin" is aimed at a wide category of men and women looking for fullness and sweetness. The fruity nose suggests notes of orange peel and vanilla. When tasting, this rum is round and balanced, with hints of spice, of toasted chocolate and pastry and cake. The finish is round, full and long.
EL Libertad "Chaptre Il – Flavor of Freedom" enjoys a unique blend of molasses distilled in it column stills and then aged for 8 years in white oak barrels. Includes this 8 year old version only 3.5 grams of sugar per bottle. This low sugar content and its rich flavor of aromas will transport you to pleasant smells of figs, plums and other stone fruits. Taste a processed and harmonious rum that is reminiscent notes of sherry, cherries and Morello cherries, wild berries and forest fruits.
EL Libertad "Chapitre 3 – Flavor of Darkness" is a product of exceptional purity. This long-awaited third variant benefits from 0% grams of added sugar. This pure Rum 8 years
matured has benefited from aging in ex-Bourbon barrels.
Taste a rum with strong woody notes, deliberately intensified for a rich palette of earthy aromas that carry the notes of dried fruit, including plums and nuts. Scents of unparalleled complexity, with aromas of coffee and a hint of vanilla.
Want to add El Libertad to your collection?