Nemiroff
| | |
| --- | --- |
| Category | Vodka |
| Origin | Ukraine |
| Alcohol | 40% |
| Perfect Serve | Neat / In de mix |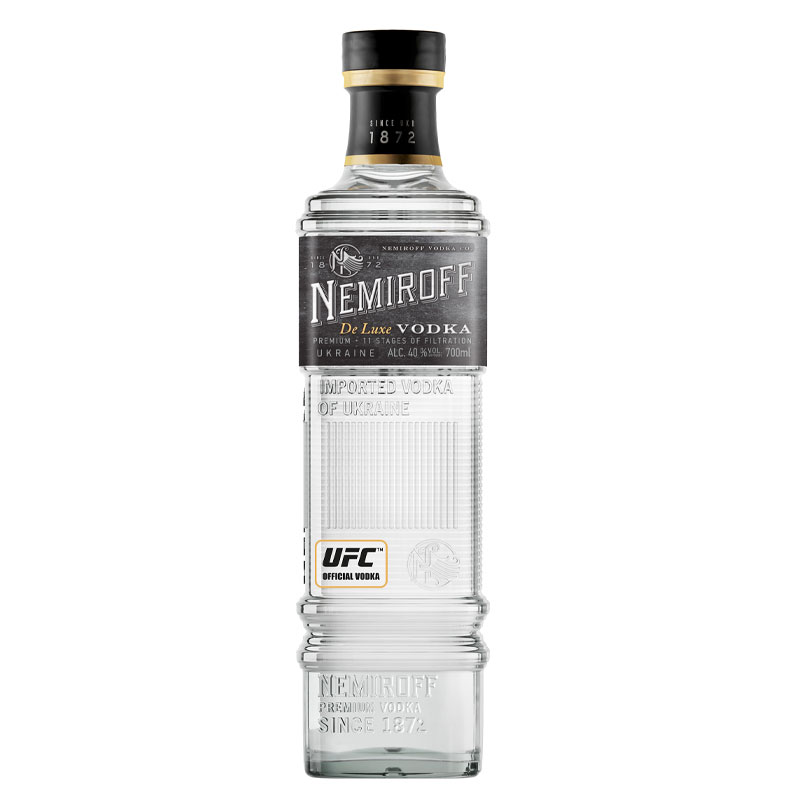 Vodka with Character
Nemiroff De Luxe is a premium product with strong character made for stout-hearted men. The drink is made to reflect the original recipe and keeps with high production standards. Production is based on natural ingredients, pure water, and premium-class alcohol. Also, high pressure, temperature, and 11 stages of filtration make Nemiroff De Luxe a symphony of refined, rich taste with a light linden flower flavor.
The quality of the drink has gained acclaim from international experts and golden awards such as: The Global Spirits Masters International Competition,The Tastings.com, John Barleycorn Awards.
More about Nemiroff
Nemiroff is a brand with a 150-year history presented in 5 continents. Its production dates back to 1872 in Nemyriv town, known for the largest Podillia distillery opened after reconstruction. The principles in which Nemiroff Company follows until now were formed 150 years ago: high quality standards, keeping with ancient recipes, constant production improvement, and search for new flavors.
We constantly implement innovations, while experimenting with technologies and taste; renovate old and create new recipes based on high-quality natural ingredients. With every coming year, this allows more and more people worldwide to enjoy the perfect taste of Nemiroff products.
Today Nemiroff is presented in 80 countries and stands among TOP 10 global vodka brands and TOP 3 vodka suppliers of Duty Free stores. During the last 15 years, Nemiroff has received over 70 prestigious international awards, including Chicago Beverage Tasting Institute, The Vodka Masters, San Francisco World Spirits Competition, The Superior Taste Awards, International Spirits Challenge, Mixology Taste Forum, World Drinks Award, The Global Spirits Masters International Competition, Wine Enthusiast, The London Spirits Competition, The Fifty Best.
Want to add Nemiroff to your collection?